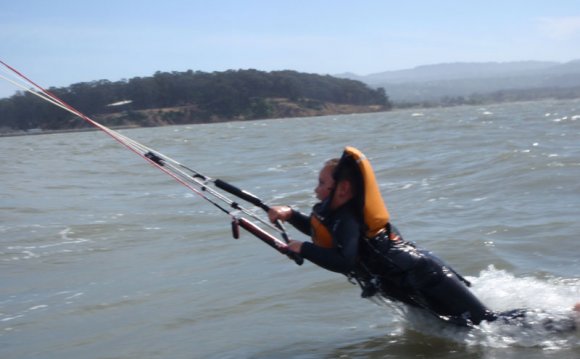 Whether you have never Kiteboarded before or you want to dial in your kite loops 101 Surf Sports has the perfect set up for getting your kiteboard lessons set up for success.
Out PASA certified Kiteboard instruction program leverages the use of a mobile boating platform to give you the greatest chance of finding the wind on any given day.
In addition being out and away from land ensures the highest degree of safety possible. We offer various levels of Kiteboard Instruction Including;
Beginner Kiteboard Lesson
If you're looking to getting in to kiteboaridng on San Francisco Bay for the first time then this is the class for you. Our beginner kiteboard lesson is set up for a 3hr session that introduces you to kiteboardings two main skills: board riding and kite flying. The innovative KitePole device used by our instructor pulls you up and across the water on a kiteboard as you lean back in your harness. Our lessons start you off flying a full-size, 4-line kite, that allows to control the kite's movements and work with the wind unlike any experience a trainer kite can give you. Key to our lessons program is teaching you to kite self sufficiently and safetly. The beginner lesson will also guide you through the self-rescue procedure to optimize your safety. All the gear you need is included in the lesson rates.
A 3-Hour Kiteboard Class is $385 and you can add and additional person to the lesson for $150. Bring along a non-kiteboarding friend for and additional $50.
Get ready for you lesson by getting a trainer kite and doing some land based prep. Only $120 - come by the shop and grab one. They are fun to play with as well.
2 Day Kiteboard Lessons
So you've decided you are committed to learn kiteboarding then this 2 day kitesurfing lesson will help get you on the water fast. Your best chance for retaining the information and advancing your skills is to follow up your first day with second day of on the water kiteboarding. Our two day program gives the opportunity to maintain your learning momentum and bring the board and kite skills together. After geting the basics on day one the second day of kiteboard instruction will cover waterstarts, board recovery, body-dragging, board retrieval, and the skills you need to become to a self-sufficient kiteboarder. All the gear you need is included in the lesson rates.
Two 3-Hour Sessions (2 Day Course) 0 and you can add another person to the lesson for an 0. Add a non-kiteboarder to ride along for 0.
4 Day Value Package Kiteboarding Lessons
Learning the basics is great but if you've decided that you want to really expedite the learning curve and get your kiteboarding game on ASAP then without doubt the 4 day program is the ticket. This program starts out with the same curriculum of our 2 day session but adds on 2 days of lessons tailored to your individual needs. The goal is to get you proficient and confident to head out on your own. Specialized skills like upwind riding are coveresd along with getting prepared for many of the various scenarios you may encounter on the water. . Along your journey, you encounter different wind/water conditions and new situations that challenge your abilities and enhance your awareness. All the gear you need is included in the lesson rates.
Four 3-Hour Sessions are $1450 and you can add another person to the lesson program for an additional $600.
Dedicated Kiteboard Board Skills Training
Developing your board skills greatly accelerates the learning process. These skill focus on board control and prepares the rider for the kite-handling responsibilities. Once again leveraging the unique KitePole we simulate the upward pull of the kite and gives the rider a feel of a live and active kite. Removing the actual kite from the equation optmizes the ability to focus on the board and prepares you to ride in both a regular and goofy stance, both of which are necessary in kitesurfing. The instruction will help you learn how to distribute your weight correctly and consequently be in control of the board's edge. The KitePole also teaches body-dragging and helps people acclimate themselves to being "hooked-in" with their harness. All the gear you need is included in the lesson rates.
1-Hour Course $200 and you can add another person to the lesson for an additional $100.
San Francisco Bay Guided Kiteboard Downwinder*
One of the tough parts of Kiteboarding on San Francisco Bay can be fighting the current to stay upwind. Why fight it just ride it! Our boat assisted guided Kiteboard downwinders are the perfect way to enjoy all the bay has to offer without any of the worry. The trip starts out Crissy Field and wraps up downwind at the Berkeley Marina. Along the way you will skirt the San Francisco City waterfront, blow by Alcatraz, leave Angel Island to port on your way to Treasure Island all the way enjoying the dependable and steady winds of San Francisco Bay. Take a break anytime along the way on the boat and enjoy a snack or drink.
3-4 hour Crossing $400 and you can add an additional riders for $150 each.
Perfect Your Kiteboard Tricks*
The use of our specialized Kiteboarding enabled jet-boat allows us the flexbilty to find the flatwater spots on any given day. You can can work on tricks or just cruise and carve. Kiteboarding on San Francisco Bay opens up many "secret spots" that have steady winds and smooth water but really can only be gotten to by boat.
3-4 hour Adventure $400 and you can add an additional rider for $150. Additional hours can be added for $100 each. Bring a non-kiting person on the boat for an additional $100.
Custom Kiteboarding Lessons
If you've already got the kiteboarding basics down we can design the custom kiteboarding instruction program taliored to your individual needs.
3 hours of custom kiteboarding instruction $385. Add another person to the lesson for an additional $150.
* Minimal instruction is offered during these tours. Riders are expected to be of intermediate skill level or PASA level 3
Call us at 415-524-8492 or email us at This email address is being protected from spambots. You need JavaScript enabled to view it. or click here to contact us to reserve your kiteboard lesson today.
YOU MIGHT ALSO LIKE
Sang Lesson with our guest IKO instructor from San ...
kiteboarding san francisco crissy field
Kite Surfing Lessons in the Bay Area, San Francisco
Share this Post