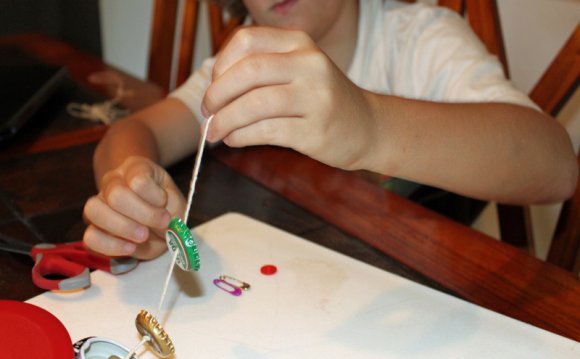 Wind chimes can be expensive to buy. Making your own wind chimes allows you to use items around your house and customize the look of it. This is a guide about making wind chimes.
Filter: All Articles Sort: Relevance
By Vicki Keong 2 12
I recently put together a rather pretty hanger/wind chime for the patio using lots of leftover beads, old odd earrings, bits of old brooches and necklaces, and some colored glass pieces from a broken wind chime. I grabbed a piece of driftwood that was in the garden, drilled six holes through the middle evenly spaced apart.
Using 6 strands of colored jewelry wire, approximately 18 inches (45cm) in length, I threaded on all the bits and pieces randomly with the pre-drilled glass at the bottom. I left a bit of wire at the top, threaded it through each of the holes, secured it with some good knots, and voila! a really pretty wind chime.
So easy a child could make one, and great for using up all those odd beads, plastic flowers, metal do-dads, etc. cluttering up your jewelry and craft boxes.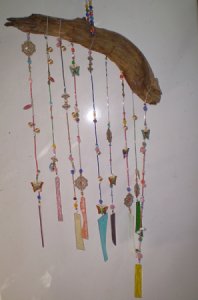 If you don't have many larger things to thread on, just space them apart by knotting the colored wire. They still look great and sparkle beautifully in the light. Have fun!
By LuvMyGingerKids 46 316
Perfect decoration for your clothes line!
Supplies:
peanut butter lid
drill
liquid laundry detergent caps
ring (plastic vitamin cap)
string
bells
Directions:
Drill four holes around the edge of the lid of a peanut butter jar.
Drill a hole in the center of four liquid laundry detergent caps.
Loop two pieces of string (folded in half) through something shaped like a ring (I used a portion of a vitamin bottle cap for my hanging ring) and knot about 3 inches down.
Thread each string through the peanut butter jar lid, knotting on the underside.
Thread each strand through one laundry detergent cap and knot on the inside.
I knotted the ends with a jingle bell to give my wind clacker an interesting sound.
You can also drill a hole in the middle of the peanut butter jar lid like I did. Use a bead to anchor the middle string or knot it before threading it through the hole.
Tie another bead or something else to the end of the middle string to give it a little weight. I tied a couple of jingle bells from the middle string also.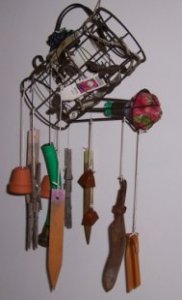 By Laura from Long Beach, CA
By Melissa M. 26 106
Left over garden tools hanging from a garden decor candle holder. It probably didn't take me an hour to make this but searching for the pieces and figuring out how to place them did.
broken tools
weather resistant string/twine
a stick or something to hang it all from
your creativity
By Cathy Gemkow 6 2
I made this with mostly recycled items. Most of this you can find in your local thrift store. I used an old brass tea pot, old brass plate, and used planter. I then found some old plastic beads that my daughter had in a tin when she was little. I bought some old vintage mismatched silverware at an estate sale and went to Lowe's and bought a metal pipe.
I painted the pipe black with a cheap can of spray paint and drilled holes all the way through the top and bottom of the pipe. I then took a drill and drilled holes in the brass plate and ran a screw to hold the tea pot onto the plate. I drilled tiny holes around the base of the plate and through the silverware. I then strung brass wire through beads, silverware, and pipe. I added prisms here and there for interest.
This was a fun project using any type of recycled items. It helps to have some kind of power tool experience.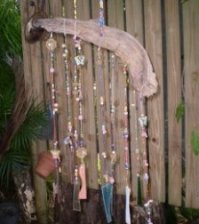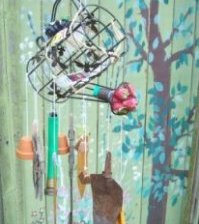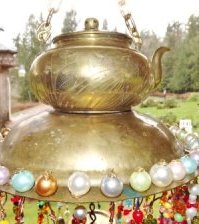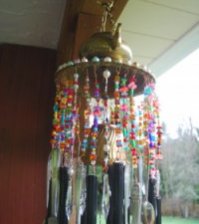 YOU MIGHT ALSO LIKE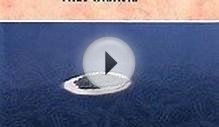 The Wind Chimes (Part One and Part Two) - Mike Oldfield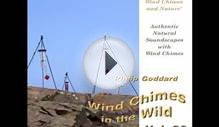 Other-Worldly Four-Part Wind Chimes Chorus by Levant Mine ...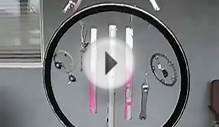 Wind Chime Made of Old Bike Parts
Share this Post