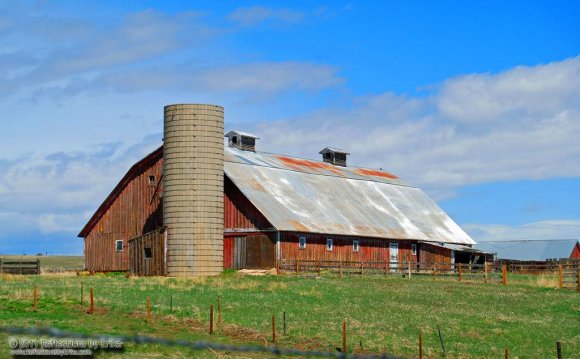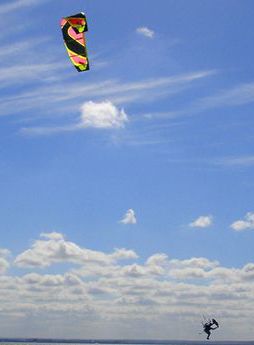 Fast-forward a bit to the 1960s. Brothers Dieter and Udo Strasilla began paragliding experiments which eventually led to parachute-skiing in 1972. This discovery then evolved into using sails with a ball-socket swivel system to pilot the kite.
While it's tough to pinpoint specifically who spearheaded the snowkiting movement as a formal winter sport, it is widely believed that a fellow by the name of Lee Sedgwick played a big role. Together with some kite skiers from Erie, Pennsylvania, the first known posse of recreational 'snowkiters' made the map in the 1980s.
Snowkiting continued to gain momentum (and still continues to do so today), thanks much in part to the increasingly popularity and success of its aquatic 'sister sport, ' kitesurfing (a.k.a., the other kind of kiteboarding — mostly depending on how the locals of certain U.S. regions refer to it).
"Everyone learned in water at first, " says Anton Rainold, a snowkiter since 2003. Rainold himself testifies to this trend, as he first combined a kite with a board while in Hawaii in 2000. Kitesurfing became a new favorite hobby of his. When his travels relocated him to Colorado, he saw some outdoor kite enthusiasts on Lake Dillon.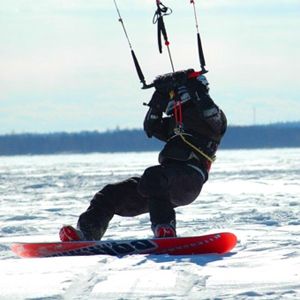 He struck up conversation with them, and was instantly hooked on the snow-filled version of the sport. It soon became more than just a hobby for him.
Rainold opened his own school for snowkiting in 2003, Colorado Kite Force. Since its commencement, he has watched the sport blossom. "The first notable [advancement] is [the kites themselves.] When we started, a majority of the kites people had were [made[ for water, so we had to adapt them for snow."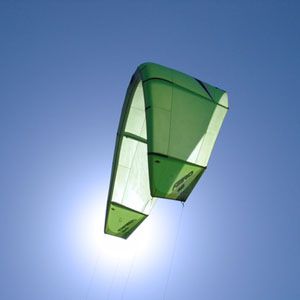 Eventually, suppliers manufactured a foil kite that was engineered to make for a less severe crash, while also easily turning over in snow or water. Other leaps forward for the winter sport include the publishing of Drift Snowkite Magazine, as well as the onset of competitions. In 1991, the World Ice and Snow Sailing Association (WISSA) introduced the first World Championship involving a hand-held sail. Nowadays, professional snowkiters have an array of competitions to choose from, ranging from local U.S. events to the great, global beyond (i.e., Dillon Snowkite Open, Red Bull Kite Farm race, International Snowkite Championship).
"Snowkiting is finding its way into different pockets of the snow community, " adds Rainold. For the U.S., rapid growth of the winter sport is occurring primarily in Jackson Hole, Wyoming, in addition to parts of Montana and Utah. Throughout his years of teaching, Rainold has noticed that clientele has switched from people who have never hearing of it, to kitesurfers from hot spots like Florida and California who are actively seeking out a winter experience and a chance to try their sport on new terrain.
YOU MIGHT ALSO LIKE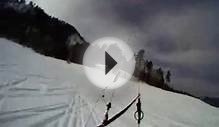 Go Pro Snow Kite Durango Colorado POV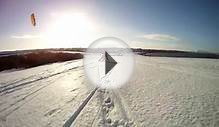 Kite skiing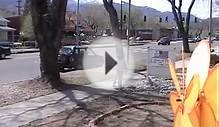 kite&ski 08
Share this Post