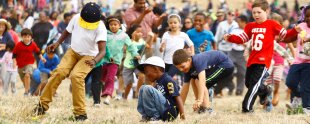 JULY 30-31, 2016
presented by
HighlineKites.com
We invite you to become part of our Berkeley Kite Festival where the earth, wind, and sky combine to create an unequaled festival experience. During the past 30 years, the Berkeley Kite Festival has developed a soaring reputation as one of the premier free family festivals on the West Coast.
When we started the Berkeley Kite Festival 30 years ago we could never have imagined what a wonderfully vibrant spectacle it would become. We hope you can join for this one-of-a-kind event, which brings our community together in a fantastic and dynamic way.
Sincerely,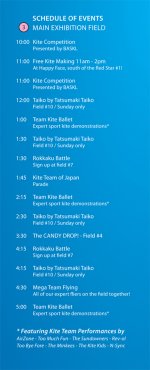 Tom McAlister
Owner of Highline Kites and founder of the Berkeley Kite Festival
When Sharing Your Memories on Twitter or Instagram use
#BerkeleyKiteFestival
Parking is - Proceeds support local charities
Q U I C K L I N K S
Kite Team of Japan - Giant Creature Kite Expo - Rokkaku Battle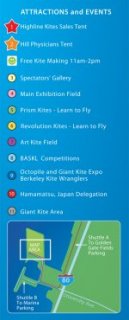 Great Food & Music - Team Kite Flying -
BACK FOR A SECOND YEAR!
I N O U R K I D S ' Z O N E
Bounce Houses - Petting Zoo - Pony Rides - Arts & Crafts - Face Painting
L I V E M U S I C
Taiko Drummers
A walk through the Berkeley Kite Festival
At the Berkeley Kite Festival it seems that a fresh surprise awaits around every corner. In one amphitheater you'll find multi-line competitions of the Bay Area Sport Kite League. In another you'll find events and other competitions, such as the candy drops and rokkaku battles.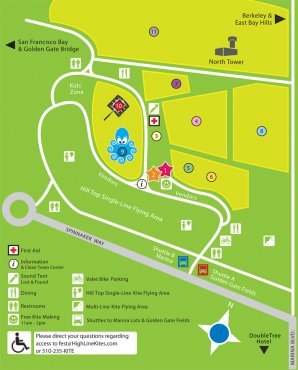 Look to the north and you will see the traditional kites of
Just down the hill from the Wrangler Field, visitors can get hands-on demonstrations of all the latest products from Ozone Kites, Revolution Kites and Prism Designs. Backing up the demo fields is the giant HighlineKites.com tent, where you can get the best kites. Behind the kite tent you'll see hundreds of kids enjoying the free kite making and behind them, a designated area along the ridge for families and their kites. Each area of the festival will give you a different taste of what kiting has to offer. If you find that your stomach should start to growl, simply follow ridgeline west to the widest array of food offerings ever seen at the BKF. Need a full meal? How about sushi, Thai food or seafood? Just want a snack? How about corn on the cob, pretzels or our favorite, Ben & Jerry's ice cream? Everything looks so good, you'll wish you could have one of each!


_____________________________________________________________________________________________________________


YOU MIGHT ALSO LIKE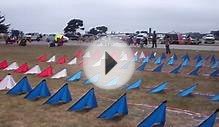 The Bay Area Sundowners Kite Team at The Southern Oregon ...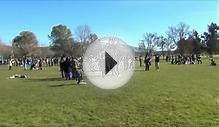 Kite Festival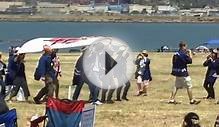 Japanese-Kite-Team-2012-Berkeley-Kite-Festival-Berkeley ...
Share this Post