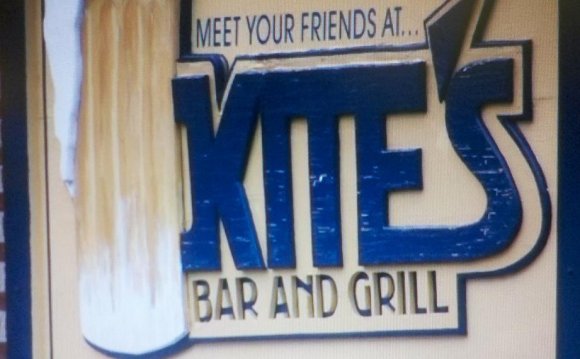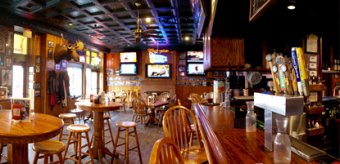 Where We Came From
1954 - In October 1954, the Shamrock Tavern was purchased from owners and operators "Slim" and Marie Redecker. Later that same year, former K-State basketball and baseball player Keith "Kite" Thomas opened what would turn into a 40 year tradition for K-State students and alumni. During Keith's professional career he played for the Philadelphia Athletics, New York Yankees and Washington Senators. He was a Kansas City native and had just retired from professional baseball when he decided to open "Kite's Bar and Grille" which quickly became a second home for many K-State Fans.
1969 - In 1969 Kite's was purchased by Terry and Jan Ray from Keith "Kite" Thomas. The Rays kept the tradition alive for many years with expansions and new menu items.
1986 - For almost 40 years, Kite's only sold beer. That all changed in 1986. A young bartender by the name of Rusty (Does that name ring a bell?) served Kite's first hard liquor drink. It was a J&B Scotch and water that was served to a good friend, John Koch.
1994 - The business continued to thrive until we took a long deserved vacation when Kite's slipped away in 1994. Rusty purchased the name "Kite's" that same year when the business was liquidated. After hundreds and hundreds of requests, Rusty has decided to bring Kite's back to life.
Keith Marshall Thomas
Bats Right, Throws Right
Height 6' 1½, *Weight 195 lb.
School Kansas State University
Biographical Information
Kite Thomas was an outfielder eight years (1947-1954), one in college (1947); two in the Majors (1952-1953) and six in the minors (1947-1951;1954). Thomas was born on Friday, April 27, 1923, in Kansas City, KS. He graduated from High School, where he starred in baseball and basketball, in 1941 at age 18. He married Rosemary Harmon on June 25, 1942. Thomas served in the U.S. Navy during World War II (BN). He then attended Kansas State University (1947).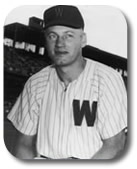 Signed by scout Lee MacPhail before the 1947 Season for the New York Yankees as an amateur free agent, he broke into Organized Baseball in 1947 at age 23 with Joplin in the Western Association. That winter, he played guard (and refereed some) for Kansas City in the PBLA. He played for Quincy in the Three-I League (1948); Kansas City in the Keith Thomas American Association (AA) (1949); Beaumont in the Texas League (1949-1950) and Kansas City (AA) (1951).
On November 19, 1951 he was drafted by the Philadelphia Athletics from the Yankees in the 1951 rule V draft. Thomas was 28 years old when he broke into the big leagues on April 19, 1952, with Philadelphia. He played for Philadelphia (1952-1953) and on June 30, 1953 he was selected off waivers by the Washington Senators from the Athletics. He played for Washington (1953) where he played his final MLB game on September 27, 1953 at age 30. On March 27, 1954 he was traded by the Senators to the Chicago White Sox for Tom Wright and returned to the minors with Memphis in the Southern Association (1954); ending his baseball playing career at age 31.
In the 1961-62 basketball season, he was a referee in the ABL
In 1952, his best year in MLB, he had 29 hits, 24 runs, 6 doubles, 1 triples, 6 home runs, 18 RBI and 0 stolen bases at (.250/.365/.474) in 75 games. In 1950, his best year in the minors, he had 156 hits, 109 runs, 42 doubles, 8 triples, 16 home runs and 111 RBI at (.283/~.372/.475) in 149 games.
Overall in MLB, he had 52 hits, 35 runs, 9 doubles, 3 triples, 7 home runs, 32 RBI and 0 stolen bases at (.233/.340/.395) in 137 games. Overall in the minors, he had 89 home runs and 506 RBI.
During the 1950s he owned the popular Kite's tavern in Manhattan, KS and was said to dispense more beer than any other tavern in Kansas. After moving to North Carolina he owned the franchise for 37 Pizza Huts in the Eastern Carolinas. He had blond hair and blue eyes, his ancestry was English-Irish and his principal hobby was all sports. He died at age 71 at Rocky Mount, NC from cancer on January 7, 1995 and is buried at Abilene Cemetery in Abilene, KS.
Notable Achievements
Led Three-I League in RBI (99), 1948
A Little Bit about Aggieville . . .
Since 1889 Aggieville has served the K-State student body and the local residents as the place to visit when coming to Manhattan, Kansas. The oldest shopping district in Kansas, Aggieville's wide variety of Aggieville Fireworksbusinesses makes it a family-friendly environment during the day and a college hot spot at night! With annual events including the Mayor's Christmas Parade, Manhattan St. Patrick's Day Parade, K-State Homecoming Parade and Pep Rally, and the Little Apple New Year's Eve Celebration & Ball Drop "The 'Ville" attracts people from around the country.
In the 1800's, the area now known as Aggieville looked quite a bit different than it does today. Houses were sparsely scattered across open acres of fields, and dirt roads provided the main pathway to campus for the 514 Kansas State Agricultural College students. Before 1898, students at the KSAC had to inconveniently purchase their textbooks downtown (this was before roads and cars). A carriage ride from campus to downtown took over 30 minutes and the walk was often muddy and wet. The college decided to build a bookstore and dining facility closer to campus, but it was shut down in 1899. That September, a group of students started the Student Co-Operative Association. This bookstore on Moro St. became the foundation of Aggieville, drawing momentum toward business development, including the venerable Joseph "Guy" Varney, founder of Varney's Book Store.
After World War I, Aggieville experienced enormous growth. Trolly lines were built and later paved over during the car boom of the 1940s. Aggieville was home to massive celebrations following pivotal football game rivalries, and home of the 1998 celebration after K-State's first victory over Nebraska since 1969 which included the tearing down of the goal posts and dragging them, en masse, down to Aggieville, Placing them on the roof of a favorite night spot!
YOU MIGHT ALSO LIKE
Meet and greet, Kites bar and grill, Junction City Ks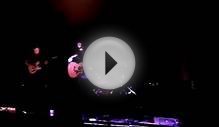 Luke Preston Band performs Use Me at Kites Bar - Manhattan KS
Share this Post