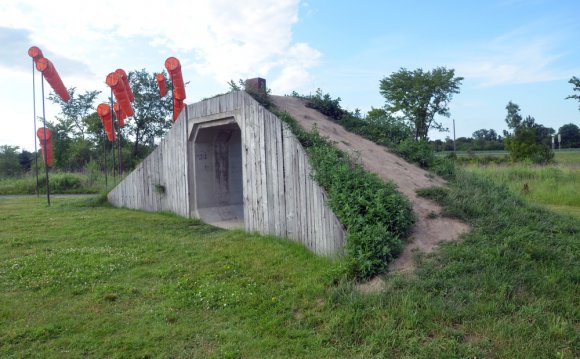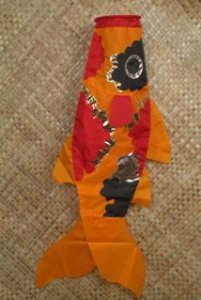 Carp windsock (L)
The large carp or Japanese Koi – Creative Treasures Hawaii's specialty, can be yours to hang from your lanai or porch. Get one in each color; get one to represent each child in your home. The large carp windsock is approximately 53" long with a 16" body. The mouth alone is 9". All Creative Treasures Carp are accented with metallic trim to shimmer and shine in the breeze.
Gold / Orange Red / White Rainbow
Bird-of-Paradise windsock
(S/M)
Like its namesake, the Bird-of-Paradise flower is noted for its brilliant colors. Creative Treasures Bird-of-Paradise windsock is no exception.
The small and medium sizes feature the gold, blue, and orange flower that are so popular throughout the Hawaiian Islands.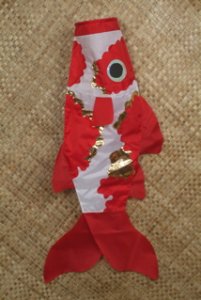 Bird-of-Paradise windsock
(L)
The large Bird-of-Paradise windsock shows off an even more-strikingly beautiful flower in shades of orange and purple.
Wind-surfer girl windsock
This brown-skinned beauty just flies by as she wind surfs on beautiful Kailua Bay.
Make sure she flies from your lanai or boat.
One size fits all.
Heliconia windsock (L)
This exotic tropical plant with its bright red and yellow flowers shows up on the Creative Treasures windsock in all its natural beauty. It looks so real that you'll want to pick it. Please pick this Heliconia.
Hibiscus windsock (S/M/L)
The yellow Hibiscus is the state flower of Hawaii. Throughout the Islands, you'll also see these showy flowers in red, pink, coral, and white.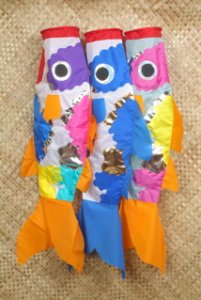 Our windsock has all the colors on one flower with a metallic pistil to catch the sun's rays. Decorate your garden with our Hibiscus windsocks – the most beautiful scarecrows in the world!
Honu windsock (XS/S/M)
Honu the Hawaiian sea turtle is featured throughout native Hawaiian life as a family guardian. Now Honu can guard your home or business.
The Honu windsock comes in three different sizes.
Hanging Heliconia windsock (M)
Not everyone is lucky enough to have the Hanging Heliconia in their garden. If you want to add this exotic tropical flower aka "Hanging Lobster Claw, " to your home décor, do it the easy way with the Hanging Heliconia windsock.
Kailua windsock (S/M)
World-famous Kailua, the windward Oahu beach town, is a favorite of locals and visitors alike. Fly the Kailua windsock from your mainland home to say, "I'd rather be in Kailua." Or, fly it from your lanai right here in sunny Kailua to show your community pride!
Two sizes are available:
Hawaiian banner (S/L)
(small: "27" x 18";
large: 3' x 5')
Hawaii State Flag windsock (L)
Fly the colors of Hawaii (red, white and blue) in the form of a windsock. Start with Hawaii, and then ask Debbie to design your next favorite state flag. Collect all 50!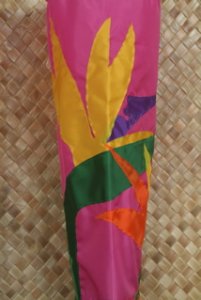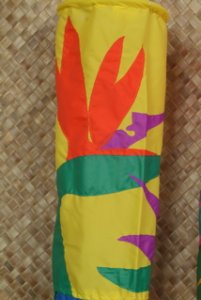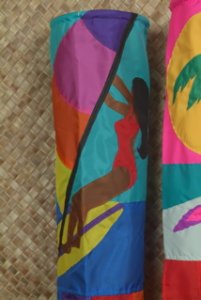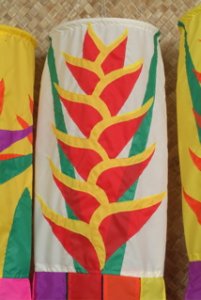 Share this Post