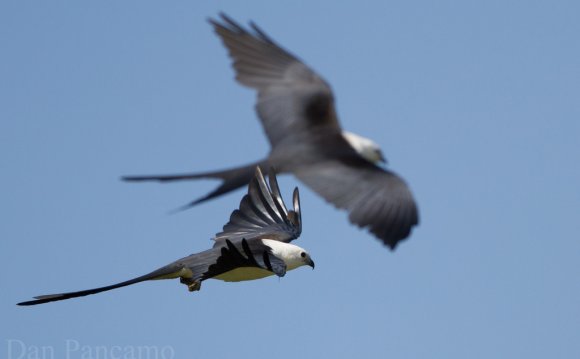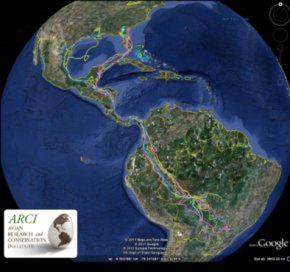 Swallow-tailed Kite long-distance migration: Threats, needs, and conservation opportunities
In a matter of weeks after ARCI began tagging Swallow-tailed Kites in 1996 with the smallest satellite transmitters yet produced, we began discovering that the U. S. population's migration pathway was much different and ended much farther away - over 8, 000 kilometers - than had been imagined. By 2005, we had combined this dramatic new remote-sensing technology with direct VHF radio tracking in South America to confirm consistent annual movements over Gulf and Caribbean waters, Mexico's Yucatan Peninsula, eastern Central America, and around South America's Amazon Basin to wintering sites in the heterogeneous landscape of southern Brazil and nearby Bolivia.This large, cumulative dataset revealed that most of the U. S. population probably winters on a dozen or so family-owned cattle ranches that were established in the last 60 to 70 years following large-scale clearing of the region's expansive dry tropical forest. Traditional ranching practices result in habitat mosaics that apparently provide suitable feeding and roosting sites for both the gregarious wintering Swallow-tailed
Kites from the
U.S. and the local breeding populations with which they mix (although the U. S. kites are "wintering", they are doing so in the middle of the southern hemisphere's summer, as far south of the Equator as their nesting range lies north of the Equator).
Although cattle ranching is strongly embraced by the families that have perpetuated this culture, it is rapidly giving way to the far more lucrative production of soy beans and, more recently, sugar cane, for which there is a growing market as bio-fuel.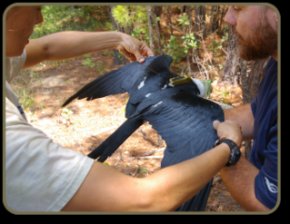 We have learned that, in addition to the large-scale loss of native forest, grasslands, and traditional agriculture, this conversion process brings vast changes to the regional hydrology and increased contamination from pesticides and herbicides, rendering the land ecologically unsuitable and even dangerous to Swallow-tailed Kites – both wintering and breeding populations.
To understand the impacts of these threats, to monitor resulting population changes, and to help find incentives for wildlife-compatible ranching practices, we began in 2011 deploying the newest of GPS-equipped satellite transmitters, which provide six to eight locations each day, accurate to within 15 meters, for several years. This collaborative project with Dr. Jennifer Coulson (Orleans Audubon Society) was made possible by funding from the U. S. Fish and Wildlife Service (we thank Dean Demarest) and by Microwave Telemetry's timely and unscheduled development of a satellite/GPS unit small enough to be carried by a Swallow-tailed Kite.
The greatly-increased quality and quantity of location, movement, and survival data produced by these devices will also allow us to address the most pressing threats to the U.S. population of Swallow-tailed Kites during the two-thirds of the year when they are beyond their U.S. breeding range. Satellite/GPS tracking will provide the first opportunity to pinpoint exact locations and the likely causes of over-wintering mortality. Such data will help enable us to develop strategic conservation efforts that address the needs of Swallow-tailed Kites year-round. Our results will also contribute substantially to managing kites on their U. S. breeding range by providing finely-scaled data on activity ranges, nesting and foraging habitats, site fidelity, and survival rates of nesting adults.
YOU MIGHT ALSO LIKE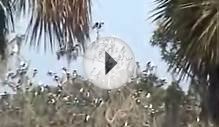 Swallow-tailed Kite roost in Florida 30 Jul 2005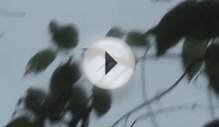 Kite, Swallow-tailed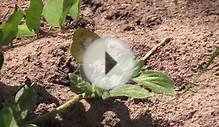 Swallow-Tailed Kites 7-18-14
Share this Post