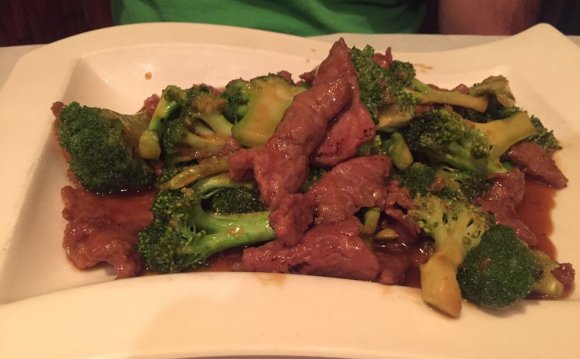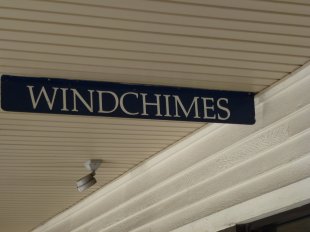 Windchimes
Windchimes Chinese Restaurant
5742 Frantz Road
Dublin, OH 43016
(614) 792-0990
Being at loose ends for lunch and the sun having just cleared the yard arm somewhere in the world, Big Mike and I decided to patronize Windchimes. I've eaten at Windchimes before, and I was curious to see if my previous experience would be repeated.
Windchimes Entrance
Windchimes strives to provide a nice, quiet atmosphere for the patrons, and it succeeds. This is not a family restaurant (unless the children are so incredibly well behaved that the Guinness people ought to be called) and will never be confused with a family friendly restaurant.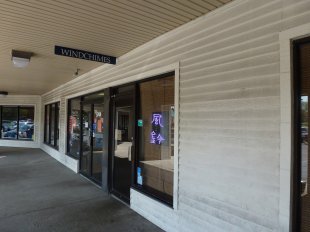 It's a place for adults to enjoy a quiet, peaceful dining experience and rid themselves from the stress induced commercialism of everyday life. The tables are far enough apart that you won't be disturbed by the people next door or the wait staff edging past you with a heavily laden tray.
Main Dining Room
Windchimes offers a full bar with a nice selection of top shelf liquor if you're so inclined. The bar provides a nice place to wait for a table during peak dining hours.
Bar
I had hot and sour soup followed by garlic shrimp. The soup was excellent and the shrimp no less so. Big Mike had some sort of chicken concoction that he consumed without comment, which indicates his approval.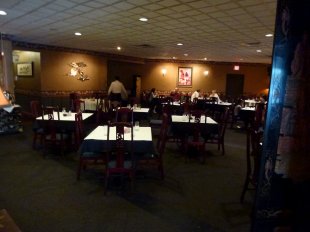 Mike tends to operate like a UNIX system: No response indicates success, acceptance and approval. Errors produce concise, unambiguous messages. Questioning an error message is generally unfortunate for the poser of the question, but entertaining for the audience.
The service at Windchimes is slightly better than the food. The chef usually comes around personally to make certain everything is excellent, and he does so without asking the trite, leading questions that I sometimes get from a fat fingered bubble head working halfway through her psychology major at the local community college - "Is everything delicious?" delivered with a blindingly bright smile and a 40 watt bulb over her head is guaranteed to take a few percentage points off her gratuity and earn her a pithy rejoinder. The chef at Windchimes is inscrutable and refreshingly businesslike. I got the feeling that if I'd told him that the wait staff could have done a better job he'd have taken the waiter into the kitchen and removed a few fingers with a cleaver.
I highly recommend lunch or dinner at Windchimes, with the only caveat that if you are dining during rush hour, either make reservations or plan to wait a while for a table. Once you're seated, you won't have to wait long for drinks or food and the wait is worth it.
I rate Windchimes:
Ambiance: 9
Service: 9.5
Food: 9
Overall rating: 9.
YOU MIGHT ALSO LIKE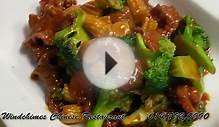 Windchimes Chinese Restaurant Video - Dublin, OH United Stat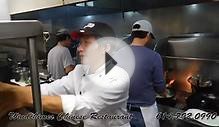 Windchimes Chinese Restaurant Video - Dublin, OH United ...
Share this Post