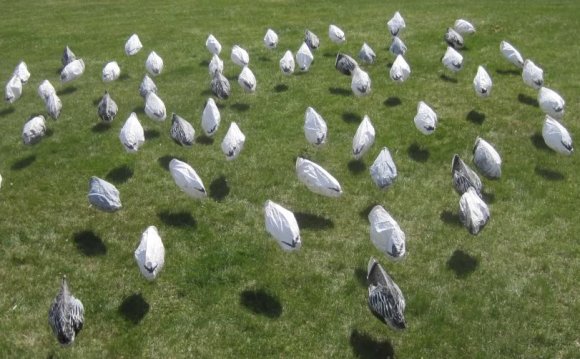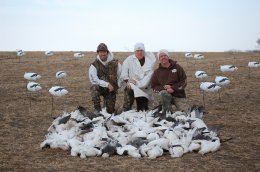 Info & Reviews
I personally designed the FeatherTek™ decoy line to be the best snow goose decoy on the market. After years of chasing the "X" with a small full body rig and huge trailer, I found it increasingly harder to get on the hot field as more and more hunters discovered the sport of snow goose hunting.
To consistently kill snows I changed my tactics to hunting migrating snow geese instead of feed fields. The change of tactics required a change of equipment. It required a larger spread that was ultra realistic, easy to setup and takedown, yet easy on my budget.
The hardcore snow goose hunter in me could not find all these requirements in any available decoy, so I and other industry experts went to work. The result is a snow goose windsock that I know will help you kill more geese!
Chris Holste
Owner Performance Calls
"This decoy is hands-down the best decoy you will find on the market today!"
I've been running Feathertek decoys since the spring of 2014 and absolutely love them! We run them through the grind of the Missouri and South Dakota conservation seasons where we can deal with snow, high winds and lots of mud and these decoys continue to produce and function perfectly. Even in no wind days these decoys look great because of their backbone system.
By far the best decoy on the market for setting up or taking down when moving spreads. Sleep is something we don't get much of in the spring because of doing "hot sets" and moving decoys every other night, if not every night. Thanks to Feathertek decoys we get a few extra hours of sleep every night because of the ease of picking up and taking down these decoys. Also packing trailers is no longer an issue for us. The backbones fold up easily which allows us to fit multiple spreads in our trailers plus an ATV and blinds.
Feathertek decoys have the best backbone system on the market, the easiest set up and take down of any decoy and great customer service. This decoy is hands-down the best decoy you will find on the market today!
Chad Foster
Owner of Last Pass Guide Service, L.L.C.
"We have hunted these decoys for 70 days each season..."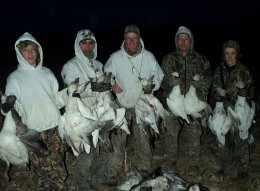 We started using FeatherTek as soon as they came out. The very simple user friendly design is what makes these decoys very unique. We have hunted these decoys for 70 days each season and they have held up remarkably well through the mud, snow/ice, and high winds that we deal with day in and day out. A very rugged decoy combined with outstanding customer service is the reason we choose to use FeatherTek decoy.
Shane Erdmann
Owner @ Migrator Valley Outfitters
Co-Owner @ Swift River Outfitters
"It was obvious these socks were designed by a snow goose hunter"
We've been hunting snows since 2001. Over the years we've tried just about very windsock to hit the market. Some have been good some not so good but in the end they all lacked a little something that would have made them perfect. While searching the internet I ran across FeatherTek Decoys. Being typical snow goose hunters who believe you can never have enough decoys we decided to add some to our spread. We took them out of their original shrink wrap in the field, no assembly whatsoever. The unique design allows you to just snap down the stake and stick 'em in the ground. It was obvious these socks were designed by a snow goose hunter.
They are good looking socks with a highly detailed paint job. They are light weight but well-made having withstood a 24 hour period of winds in excess of 40mph without a single casualty. The tall stake and sock support keep them up and out of the mud and sock tearing corn stubble on windless days and drain holes help keep them dry. The sock rotates easily on the stake so no having to go around and adjust all your socks when the wind suddenly changes direction on you. When it came time to pick-up you just snap the stake flat on the bag making packing and storage very efficient. I'd say if you tried all the others and are still looking for the perfect sock you should try these, we like 'em a lot, the geese liked 'em...which is what really matters!
Steve Morgan
Chicago, IL
"I can't wait to switch my entire spread over to your FeatherTek Socks!"
Share this Post