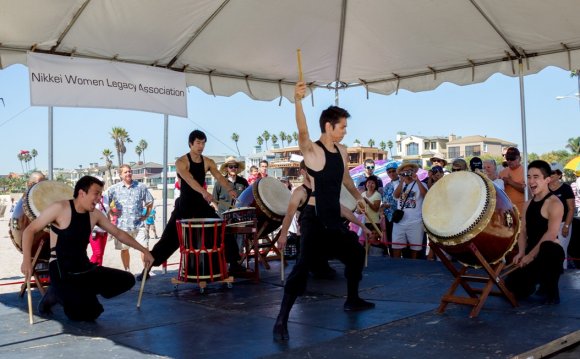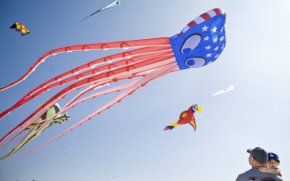 1 of 11
Simon Sanchez of Fullerton and his 2-year-old son Oliver, watch the eye-catching kites flutter above Seal Beach during the 17th annual Japan America Kite Festival Sunday. MINDY SCHAUER, ORANGE COUNTY REGISTER Life imitates art as Gigi, a Catalina Macaw, hangs out at the 17th annual Japan America Kite Festival. The birds likeness flies above in the brilliant blue sky. Gigi belongs to Janis Sabic whose husband Jay, no relation to the bird, was flying a giant Gecko kite. MINDY SCHAUER, ORANGE COUNTY REGISTER Charles Gillespie's pelican kite tries to take flight in what he called "iffy" morning winds at the 17th annual Japan America Kite Festival in Seal Beach. He eventually gave up and had to wait until later in the day when conditions for kite-flying got better. MINDY SCHAUER, ORANGE COUNTY REGISTER The 17th annual Japan America Kite Festival lights the sky with color and design in Seal Beach Sunday. MINDY SCHAUER, ORANGE COUNTY REGISTER Children keep focused during the Catch the Tail contest at the 17th annual Japan America Kite Festival in Seal Beach. Different age groups competed for prizes as they tried to grab the kite tail. MINDY SCHAUER, ORANGE COUNTY REGISTER Jacob Benjamin, 8, can almost touch the tails of Ray Miller's hyperkite during the 17th annual Japan America Kite Festival in Seal Beach Sunday. MINDY SCHAUER, ORANGE COUNTY REGISTER A lone walker shares paths with a kite as the early morning clouds and low winds got the 17th annual Japan America Kite Festival off to a slow start Sunday in Seal Beach. The sky lit up with colorful kites as conditions improved later in the day. MINDY SCHAUER, ORANGE COUNTY REGISTER Penelope Anderson, 3, marvels as her kite takes flight during the 17th annual Japan America Kite Festival. She was with her parents Brian and Beatriz Anderson of Glendora. MINDY SCHAUER, ORANGE COUNTY REGISTER Daniel Porter plays the taiko drums with his group Prota! during the Japan America Kite Festival in Seal Beach Sunday. The group's style of drumming originated in ancient Japan but is played with contemporary influences, Porter said. MINDY SCHAUER, ORANGE COUNTY REGISTER A kite takes flight with the birds over Seal Beach Pier Sunday during the 17th annual Japan America Kite Festival. MINDY SCHAUER, ORANGE COUNTY REGISTER Trevor Clarke, 2, carried by his dad Jeff, looks a bit like a kite awaiting launch Sunday at the 17th annual Japan America Kite Festival. "We're here to see the shows, make some kites, hang out and have some fun, " Jeff Clarke of Placencia said. MINDY SCHAUER, ORANGE COUNTY REGISTER
Simon Sanchez of Fullerton and his 2-year-old son Oliver, watch the eye-catching kites flutter above Seal Beach during the 17th annual Japan America Kite Festival Sunday.MINDY SCHAUER, ORANGE COUNTY REGISTER
By The Numbers: Japan America Kite Festival
15, 000: Estimated number of people who attended
100: Estimated number of kites flying at any given time during the festival
150 meters (or 492 feet): Length of largest kite, a train of small diamond kites in an alternating Japanese flag and American flag design.
11 inches: Length of shortest kite, made at the children's kite workshop
$6, 000: Value of most expensive kite, a roughly 100-foot "show" kite shaped like a salamander
Source: Japan America Society
SEAL BEACH – From a pirate ship and Red Baron plane to a butterfly and 40-foot macaw, the sky above the Seal Beach Municipal Pier was dotted with more than 100 colorful kites on Sunday at the 17th annual Japan America Kite Festival.
About 15, 000 people attended the free, one-day festival to fly a kite and learn about Japanese kites and culture. The event offered a children's kite workshop, Japanese food, music, origami and kite flying demonstrations, and other activities.
The festival was presented by Japan America Society of Southern California, Up Up and Away Kite Shop of Seal Beach and Up Up and Away Kite Club.
Douglas Erber, president of Japan America Society of Southern California, said the festival teamed with his organization in 2001 to promote Japanese-American relations and culture. Organizers say it is the largest Japanese-themed kiting event outside of Japan.
"It's a celebration of both cultures in that they both compliment each other, " Erber said. "They are different, but doing same thing. While Japanese and Americans speak different languages, we have shared values, democracy and a bilateral relationship. When we are flying kites at the same time, we show the strength of that relationship and the people-to-people relationship."
While the sky was filled with mostly American kites, usually made of ripstop nylon and a nylon line, it was the traditional Japanese kites made of bamboo, silk and Japanese washi paper that were gaining attention on ground.
Edo kite master Mikio Toki, who has traveled from his native Japan to the festival since 2001, displayed his traditional, hand-painted kites featuring characters from Japanese folklore and kabuki theater. Toki's edo-dako or traditional, "Tokyo style" kite designs are sought after around the world, Erber said.
During the festival, Toki propped up a nearly 500-foot train of diamond-shaped kites that alternated Japanese and American flags. He said flying kites captures a joy that transcends both cultures.
"I like seeing the children smile, " when they fly kites, Toki said. "I'm happy, too."
Burbank resident Robyn Palmer, 28, was flying one of the children's kites from the festival's workshop. She enjoyed seeing children and adults around her experiencing the childlike joy kite flying can bring.
"I haven't done this in 10 years, " Palmer said. "I'm thinking of keeping this kite in my car and flying it again when I find a good spot. It's like art in the sky."
Seal Beach resident Su Wong, 41, said she liked the Japanese cultural aspect of the festival and its family-friendly setting. While waiting to watch traditional taiko drummers perform, she also held onto her daughter's smaller kite, giving it a whirl in the sky.
YOU MIGHT ALSO LIKE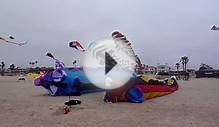 Big Worm - Japan American Kite Festival, Seal Beach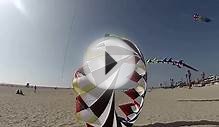 Kite Day Festival 2013 - Seal Beach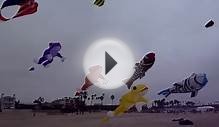 Big Kites - Japan America Kite Festival, Seal Beach, CA.
Share this Post