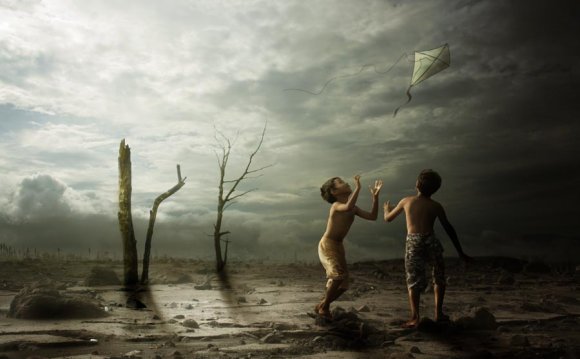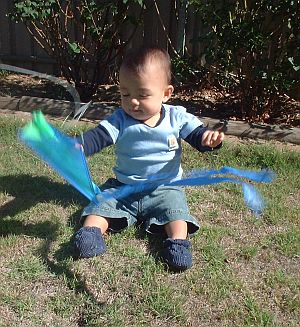 Our 'Child Flying Kite' pictures cover only a few years. However, he can say he has been flying kites nearly all his life!
Browsing through our archive of kite flying pictures, there were a number that featured our small son, Aren. He was still shorter than most of his friends in mid-2011, but could well out-grow his Dad eventually. Which won't take a lot of doing... In any case, I hope he retains his love of kite flying!
The images did bring back a few memories, so I've captioned each shot with a comment or 2. See how he graduates from waving around a small Sled kite while sitting down, through to hanging on to some of our much bigger Dowel kites. Hope you enjoy them.
Oh, by the way, I have deliberately avoided re-using existing photos from this site. Almost all 'child flying kite' images on this page have not been previously published on this website.
Yes, that's little Aren down there, towing the MBK Tiny Tots Diamond on a cool winter day. He was about 2 1/2 years old.
This Teddy Sled kite on Amazon is even cuter than Aren's first little Sled...
In April 2007, we took him outside for a short photo-session with the Baby Sled. We had bought him this kite at the Adelaide International Kite Festival, in March 2007. Cuteness personified. Aren, that is, although the kite's not bad either!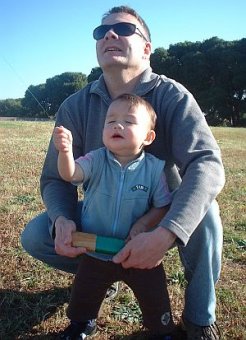 By October 2007, we had bought the Windjam Delta. In those days, not knowing any better, we flew it on fishing line. Winds were light on this sunny day, and Aren had no trouble hanging on as the 1 meter Delta hovered around 200 feet up.
A little later in October, we had made a small Diamond for Aren. Later I simplified this design when I published the Tiny Tots Diamond page.
Here's Aren, barely capable of standing and flying a kite. He was very cute, and shortly after this shot was taken, he trotted off downwind, still clutching the line as the kite soared up higher in a gust of wind.
In April 2008, we snapped this shot of the little tacker flying the 1-Skewer Delta from the comfort of his pram! During this year he flew kites like this on quite a few occasions. Often the kite was a 2-Skewer design, for example the 2-Skewer Sode.
In July 2008 I took this shot of Aren flying the 1-Skewer Diamond from his pram. Of course, he had to crane his neck around, trying to see what I was up to, behind the pram! An unintended pose, but this child flying kite picture works quite well don't you think?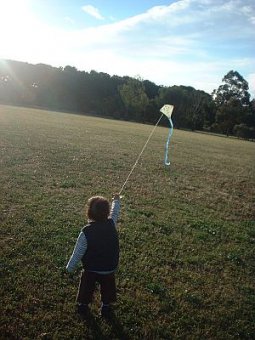 September 2008. Working the line a bit, with the 2-Skewer Delta down a little low by the looks of it! He looks like he's really enjoying himself here. No longer a human kite line anchor, he's a real little kite-flier now!
light, so I allowed Aren to fly it for a few moments while I took the photo. Just look at that steep line angle!
However, we were at the rather small vacant block at the top of our street and so had only 15 or 20 meters of line out. This Rok has a wing span of 1.2 meters (4 feet).
It doesn't take much to get this kite airborne, and it will even go overhead if there is any rising air around. It's pull is light enough for most 'child flying kite' scenarios, even as wind strength creeps into the moderate range.
Here he is hanging on to the Dowel Barn Door in August 2010. The kite was above 200 feet at the time so I didn't bother trying to get it in the picture.
Aren seems to be concentrating on his task! He has left the winder, with plenty of 50 pound Dacron still on it, on the grass behind him.
Here is Aren doing his best to keep the little 1-Skewer Sode in the air. The breeze was light and quite turbulent due to a grove of trees just upwind of us. However, I wanted to get the kite in this 'child flying kite' shot, so brought it down low before handing over to Aren.
This was in December 2010. The tiny Sode really needs that long tail, which probably disgusts any Japanese kite masters reading this page...
This photo was taken more or less facing the sun, so the tiny 1-Skewer Roller is well-lit from behind, but Aren is just a dark shadow.
The kite is dancing around on at least 30 meters (100 feet) of 20 pound Dacron line. At the time, we were on the lawns at Semaphore while attending the Adelaide International Kite Festival in March 2011.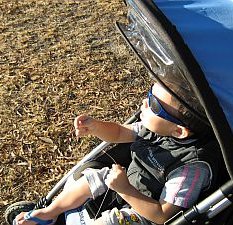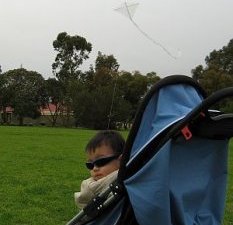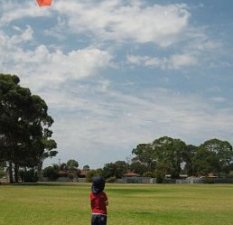 YOU MIGHT ALSO LIKE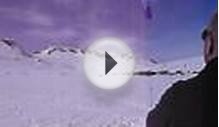 Flying power kites, Finse, Norway. Arthur Gebuys, Doug Blane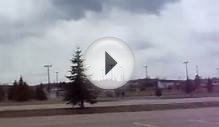 Flying Kites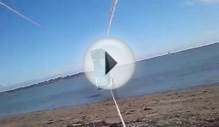 Flying kite images (for kite steering unit development)
Share this Post